About the Journal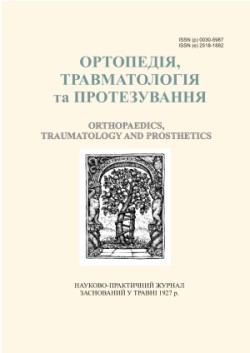 ISSN(p): 0030-5987
Identifier in the register of media entities - R03-01369.
Field of Science: Medical Sciences
Periodicity: 4 times a year
Languages of Publications: Ukrainian, English 
Звертаємо увагу!!!!!
До журналу «Ортопедія, травматологія та протезування»
Стаття подається в двох примірниках, кожен з яких підписується всіма авторами і супроводжується рекомендаційним листом від установи, де була виконана робота, у ньому мають бути висновки антиплагіатної комісії та результати самої програми, а також висновок експертної комісії щодо можливості публікації матеріалу, усе подане має бути завірене печаткою.
Для більш детального ознайомлення з правилами подання матеріалів можна на сайті журналу http://otp-journal.com.ua/about/submissions