Correlation of clinical, radiological and sonographic data in patients with posttraumatic cervical spine deformities
Keywords:
cervical spine, posttraumatic deformity, instrumental diagnostics
Abstract
Seventy-one patients with posttraumatic subaxial cervical spine deformities were examined in order to reveal a relationship of the character of deformity with the functional state of blood flow in vertebral arteries and clinical signs. It was found out that typical for old and long-standing deformities was a syndrome, which included moderate pains in the cervical spine and changes in the reflex sphere. Sonographically, 70.5% of patients revealed pathological changes of haemodynamics in the form of a significant asymmetry of peak-systolic blood velocity (more than 30%) along vertebral arteries, while the syndrome of vertebrobasilar insufficiency developed in 39.2% of cases with distraction-flexion damages on stages 2–4 and in 15.3% of patients with compression-flexion damages on stages 3-5.
References
Барыш А.Е. Особенности кровотока в позвоночных артериях при травматических деформациях шейного отдела позвоночника / А.Е. Барыш, А.Е. Вишняков, Я.А. Долуда // Медицина и … — 2007. — № 3–4 (18). — С. 50–54.
Барыш А.Е. Современный подход к клинической оценке результатов хирургического лечения заболеваний и повреждений шейного отдела позвоночника в практике ортопеда-травматолога / А.Е. Барыш // Междунар. мед. журнал. — 2007. — № 2. — С. 75–82.
Гладков А.В. Биомеханическое обоснование выбора метода лечения застарелых неосложненных сгибательных повреждений шейного отдела позвоночника (экспериментально-клиническое исследование): автореф. дис. … канд. мед. наук: 14.00.22 / А.В. Гладков. — Новосибирск, 1983. — 23 с.
Корж М.О. Тактика хірургічного лікування ускладнених ушкоджень шийного відділу хребта / М.О. Корж, О.Є. Бариш: ІІ з'їзд нейрохірургів України, Одеса // Бюл. Укр. асоц. нейрохірургів. — 1998. — Вип. 6. — С. 136–137.
Митьков В.В. Клиническое руководство по ультразвуковой диагностике / В.В. Митьков. — М.: Видар, 1997. — Т. 4. — 231 с.
Норкин И.А. Алгоритм лечения больных с последствиями первично-неосложненной травмы шейного отдела позвоночника / И.А. Норкин // Хирургия позвоночника. — 2007. — № 1. — С. 8–12.
Парій В.Б. Хірургічне лікування неускладнених несвіжих та застарілих ушкоджень шийних хребців: автореф. дис. … канд. мед. наук: 14.00.22 / В.Б. Парій; ІТО АМН України. — Київ, 2004. — 20 с.
Клінічна доплерівська ультрасонографія / Л.А. Пол, А.Д. Пол, А.П. Мирон и др. — Львів: Медицина світу, 2001. — 293 с.
Попелянский Я.Ю. Ортопедическая неврология. Руководство для врачей / Я.Ю. Попелянский. — 3-е изд. — М.: МЕДпресс-информ, 2003. — 672 с.
Теория статистики: Учебник; под ред. проф. Г.Л. Громыко. — Т. 11. — М: ИНФРА, 2002. — 414 с.
Allen B.L. Mechanistic classification of closed indirect fractures and dislocations of the lower cervical spine / B.L. Allen, R.L. Ferguson, R. Lehmann et al. // Spine. — 1982. — № 7. — Р. 1–27.
Neurosonographic monitoring of 105 spontaneous cervical artery dissections / C. Baracchini, S. Tonello, G. Meneghetti, E. Ballotta // Neurology. — 2010. — Vol. 75. — Р. 1864–1870.
The devastating potential of blunt vertebral arterial injuries / W.L. Biffl, E.E. Moore, J.P. Elliott et al. // Ann Surg. — 2000. — Vol. 231. — Р. 672–681.
Cothren C.C. Cervical Spine Fracture Patterns Predictive of Blunt Vertebral Artery Injury [Text] / C.C. Cothren,E.E. Moore, W.L. Biffl // J Trauma. — 2003. — Vol. 55. — Р. 811–813.
Delayed diagnosed stage 1,2 distractiv flexion injury of the cervical spine / T.S. Jeon, H. Chang, Y.B. Kim et al. // Asian Spine. — 2011. — Vol. 5. — №1. — P. 35-42.
Blunt cerebrovascular injuries: diagnosis and treatment / P.R. Miller, T.C. Fabian, T.K. Bee et al. // J Trauma. — 2001. — Vol. 51. — Р. 279–286.
Prospective screening for blunt cerebrovascular injuries: analysis of diagnostic modalities and outcomes / P.R. Miller, T.C. Fabian, M.A. Croce et al. // Ann Surg. — 2002. — Vol. 236. — Р. 386–395.
Measurement variability in the assessment of sagittal alignment of the cervical spine a comparison of the Gore and Cobb methods / J.S. Silber, J.S. Lipetz, V.М. Hayes et al. // J. Spinal Disord Tech. — 2004. — № 4. — P. 301–305.
The Effects of Staged Static Cervical Flexion-Distraction Deformities on the Patency of the Vertebral Arterial Vasculature / E. Sim, A.R. Vaccaro, А. Berzlanovich, S. Pienaar // Spine. — 2000. — Vol. 25, Issue 17. — Р. 2180–2186.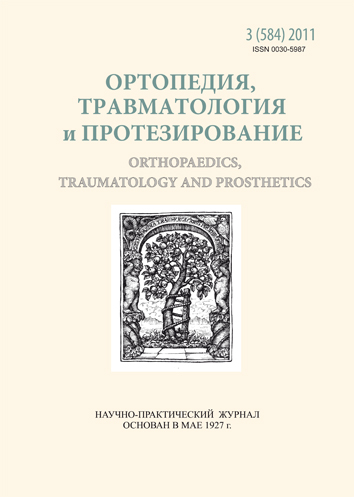 Downloads
Section
ORIGINAL ARTICLES
License
Copyright (c) 2014 Oleksandr Barysh, Yaroslav Doluda
This work is licensed under a Creative Commons Attribution 4.0 International License.
The authors retain the right of authorship of their manuscript and pass the journal the right of the first publication of this article, which automatically become available after 6 months from the date of publication under the terms of Creative Commons Attribution License, which allows others to freely distribute the published manuscript with mandatory linking to authors of the original research and the first publication of this one in this journal.
Authors have the right to enter into a separate supplemental agreement on the additional non-exclusive distribution of manuscript in the form in which it was published by the journal (i.e. to put work in electronic storage of an institution or publish as a part of the book) while maintaining the reference to the first publication of the manuscript in this journal.
The editorial policy of the journal allows authors and encourages manuscript accommodation online (i.e. in storage of an institution or on the personal websites) as before submission of the manuscript to the editorial office, and during its editorial processing because it contributes to productive scientific discussion and positively affects the efficiency and dynamics of the published manuscript citation (see The Effect of Open Access).