Regeneration of intervertebral disc by way using of allogeneic chondrocytes cultivated in vitro in the light of concept for restabilization of the spine(experimental investigation)
Keywords:
intervertebral disc, al¬logenic chondrocytes transplantation, regeneration
Abstract
The intervertebral disc (ID) has low reparative capacity. In this regard, researcher aimed at improving the capacity of the re­parative structures are carried out. A variety of growth factors, mesenchymal stem cells, autologous and allogenic chondrocytes, etc are used for this purposes.

Objective: to study the structure of the traumatized intervertebral disc after transplantation of allogenic chondroсуtes in combination with spinal restabiliza­tion using method of dynamic spine neutralization of vertebral motion unit (VMU). Methods for optimizing ID regeneration in the rat tail vertebral segment we selected high-density culture of chondrocytes obtained from the limb bud 7–10 day old rat embryos in which cells retain cartilaginous phenotype and gen­otype was confirmed by electron microscopy. Performed four se­ries of experiments: I — intact animals, II — ID injury (control), III — traumatic ID injury with dynamic neutralization (method G. Dubois et al, 1999), IV — ID injury with dynamic neutraliza­tion and transplantation of chondrocytes. One month the opera­tion the animals were euthanized, and a comparative morpho­logical analysis with morphometry was carried out.

Results: it found that uncontrolled movements in the injured VMU lead to destructive changes in the ID. In terms of restabilization and dy­namic neutralization of the vertebral motor segment ID has been replaced by connective tissue, its height reduced. Chondrocyte culture is different from the fibrous ring and nucleus pulposus cells. However, with the introduction of chondrocytes in the in­jured ID and maintaining the controlled mobility of the VMU the proliferation of hyaline cartilage in its peripheral parts has been noted.

Conclusion: combination of allogeneic chondro­cytes transplantation into disk and dynamic neutralization leads to the formation of hyaline cartilage territories and maintains the height of the injured ID.
References
Whatley BR, Wen X. Intervertebral disc: structure, degeneration, repair and regeneration. Materials Science and Engineering: C. 2012;32(2):61–77. doi: 10.1016/j.msec.2011.10.011.
Sharifi S, Bulstra SK, Grijpma DW, Kuijer R. Treatment of the degenerated intervertebral disc; closure, repair and regeneration of the annulus fibrosus. 2014: https: // www.researchgate.net/publication/260684311.
Nerlich AC, Boos N. Advances in lumbar degenerative disc disease pathophysiology comprehension. Ed. EC Benzel. Springer, 2016. рр. 41–60.
Wang S-Z, Chang Q, Lu J, Wan C. Growth factors and platelet-rich plasma: promising biological strategies for early intervertebral disc degeneration. Int Orthop. 2015;39(5):927-34. doi: 10.1007/s00264-014-2664-8.
Bae WC, Masuda K. Emerging technologies for molecular therapy for intervertebral disc degeneration. Orthop Clin North Am. 2011;42(4):585–601. doi: 10.1016/j.ocl.2011.07.004.
Sakai D, Andersson GB. Stem cell therapy for intervertebral disc regenera¬tion: obstacles and solutions. Nat Rev Rheumatol. 2015;11(4):243-56. doi: 10.1038/nrrheum.2015.13.
Radchenko VA, Dedukh NV, Malyschkina SV, Badradinova IV. Some aspects of optimizing the regeneration of damaged intervertebral disc. Annals of Traumatology and Orthopedics. 2003;(3–4)):6–16.
Zhang X, Hirai M, Cantero S, Ciubotariu R, Dobrila L, Hirsh A, Igura K, Satoh H, Yokomi I, Nishimura T, Yamaguchi S, Yoshimura K, Rubinstein P, Takahashi TA. Isolation and characterization of mesenchymal stem cells from human umbilical cord blood: reevaluation of critical factors for successful isolation and high ability to proliferate and differentiate to chondrocytes as compared to mesenchymal stem cells from bone marrow and adipose tissue. J Cell Biochem. 2011;112(4):1206-18. doi: 10.1002/jcb.23042.
Hiyama A, Mochida J, Iwashina T, Omi H, Watanabe T, Serigano K, Tamura F, Sakai D. Transplantation of mesenchymal stem cells in a canine disc degeneration model. J Orthop Res. 2008;26(5): 589–600. doi: 10.1002/jor.20584.
Hohaus C, Ganey TM, Minkus Y, Meisel HJ. Cell transplantation in lumbar spine disc degeneration disease. Eur Spine J. 2008 Dec;17 Suppl 4:492-503. doi: 10.1007/s00586-008-0750-6.
Yoshikawa T, Ueda Y, Miyazaki K, Koizumi M, Takakura Y. Disc regeneration therapy using marrow mesenchymal cell transplantation: a report of two case studies. Spine. 2010;35(11):E475–E480. doi: 10.1097/BRS.0b013e3181cd2cf4.
Orozco L, Soler R, Morera C, Alberca M, Sánchez A, García-Sancho J. Intervertebral disc repair by autologous mesenchymal bone marrow cells: a pilot study. Transplantation. 2011;92(7):822-8. doi: 10.1097/TP.0b013e3182298a15.
Acosta FLJr, Metz L, Adkisson HD, Liu J, Carruthers-Liebenberg E, Milliman C, Maloney M, Lotz JC. Porcine intervertebral disc repair using allogeneic juvenile articular chondrocytes or mesenchymal stem cells. Tissue Eng. Part A. 2011;17(23–24):3045-55. doi: 10.1089/ten.tea.2011.0229.
Dubois G, Germay de B, Schaerer NC, Fennema P. Dynamic neutralization: a new concept for restabilization of the spine. Szpalski M, Gunzburg R, Pope MH. Lumbar segmental instability. Lippincot Williams & Wilkins, Philadelphia, 1999, рр. 233-40.
Hadhazy Cs, Laszlo B, Kostenszky K. Cartilage differentiation in micro-mass culture of chicken limb buds. Acta Morphol Acad Sci Hung. 1982;31:65–78.
Ganey T, Hutton WC, Moseley T, Hedrick M, Meisel HJ. Intervertebral disc repair using adipose tissue-derived stem and regenerative cells experiments in a canine model. Spine. 2009;34(21):2297-304. doi: 10.1097/BRS.0b013e3181a54157.
Benglis DM. Biology of spine fusion. Spine Surgery: techniques, complication, avoidance. Ed. E. C. Benzel. Elsevier, 2012:145-54.
Benneker LM, Andersson G, Iatridis JC, Sakai D, Härtl R, Ito K, Grad S. Cell therapy for intervertebral disc repair: advancing cell therapy from bench to clinics. Eur Cell Mater. 2014;27:5–11.
Tow BP, Hsu WK, Wang JC. Disc regeneration: a glimpse of the future. Clin Neurosurg. 2007;54:122-8.
Orozco L, Soler R, Morera C, Alberca M, Sánchez A, García-Sancho J. Intervertebral disc repair by autologous mesenchymal bone marrow cells: a pilot study. Transplantation. 2011;92(7):822-8. doi: 10.1097/TP.0b013e3182298a15.
Illien-Jünger S, Pattappa G, Peroglio M, Benneker LM, Stoddart MJ, Sakai D, Mochida J, Grad S, Alini M. Homing of mesenchymal stem cells in induced degenerative intervertebral discs in a whole organ culture system. Spine. 2012;37(22):1865-73. doi: 10.1097/BRS.0b013e3182544a8a.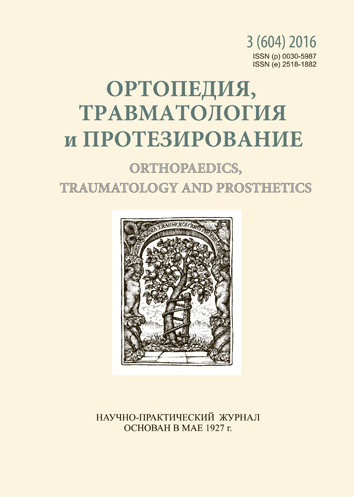 Downloads
Section
ORIGINAL ARTICLES
License
Copyright (c) 2016 Volodymyr Radchenko, Ninel Dedukh, Svitlana Malyshkina, Olga Kostytska
This work is licensed under a Creative Commons Attribution 4.0 International License.
The authors retain the right of authorship of their manuscript and pass the journal the right of the first publication of this article, which automatically become available after 6 months from the date of publication under the terms of Creative Commons Attribution License, which allows others to freely distribute the published manuscript with mandatory linking to authors of the original research and the first publication of this one in this journal.
Authors have the right to enter into a separate supplemental agreement on the additional non-exclusive distribution of manuscript in the form in which it was published by the journal (i.e. to put work in electronic storage of an institution or publish as a part of the book) while maintaining the reference to the first publication of the manuscript in this journal.
The editorial policy of the journal allows authors and encourages manuscript accommodation online (i.e. in storage of an institution or on the personal websites) as before submission of the manuscript to the editorial office, and during its editorial processing because it contributes to productive scientific discussion and positively affects the efficiency and dynamics of the published manuscript citation (see The Effect of Open Access).