Conceptual strategy for pelvic resections in tumor patients
Keywords:
pelvic resection, hemipelvectomy, bone tumors, surgical procedure
Abstract
Pelvic resection is a technique that involves surgical resection of portions of the pelvic girdle. Hemipelvectomy is a pelvic re­section that salvages an ipsilateral limb. The main indication for these procedures is primary malignant tumors of the pelvis (mostly chondrosarcomas), but in rare cases they are indicated for metastatic lesions, infection, or trauma.
Objective: the main purpose of this study was to analyze pelvic resection patients.
Methods: the results of treatment of 239 patients (131 male and 108 female) with pelvic tumors who were undergoing surgeries procedures in the Sytenko Institute from 1963 till 2017 were evalu­eted. 186 patients were operated at modern era in 2004–2017. The most frequent nosologies were chondrosarcomas, osteo­chondromas and secondary metastatic lesions. The average age of patients was (37.2 ± 18.9) years (7–80). Preoperative planning is crucial to define the extent of the tumor, plan the surgical margins, and identify the location of the vital structures. Neces­sary imaging includes plain radiography, CT, and MRI. There were 38 patients with type I resection (by Enneking and Dunham classification), 132 — with II type and 69 — with III type resec­tion in our series.
Results: reconstruction is dictated by the ex­tent of the resection and the remaining structures. Surgical tech­nique is dictated by histology of the tumor and location of the le­sion. Allograft and autograft pelvic reconstruction has been used for patients. The TESS and MSTS have been applied to assess function outcomes. Wound infection and flap necrosis, nonunion, nerve palsy and local recurrence of malignant tu­mors are the most common complications for hemipelvectomies and pelvic resections.
Conclusions: a multidisciplinary team is required for treat bone tumor of a pelvis. Appropriate pre­operative counseling with the patient and family is paramount to explain the magnitude of the procedure, common complica­tions, and predicted functional loss. 
References
Lee CM Jr, Alt LP. Hemipelvectomy and hip disarticulation for malignant tumors of the pelvis and lower extremity. Ann Surg. 1953;137(5):704–17.
Ransohoff J. XIII. Interilio-abdominal amputation: With report of a case. Ann Surg. 1909;50(5):925–35.
Eilber FR, Grant TT, Sakai D, Morton DL. Internal hemipelvectomy: Excision of the hemipelvis with limb preservation. An alternative to hemipelvectomy. Cancer. 1979;43(3):806–9.
Enneking WF, Dunham WK. Resection and reconstruction for primary neoplasms involving the innominate bone. Bone Joint Surg Am. 1978;60(6):731–46.
Jemal A, Siegel R, Xu J, Ward E. Cancer statistics, 2010. CA Cancer J Clin. 2010;60(5):277–300. doi:10.3322/caac.20073.
Biermann JS, Adkins DR, Benjamin RS, et al. Bone cancer. J Natl Contpr Cane Netw. 2010;8(6):688–712.
Spector LG, Ross JA, Nagarajan R. Epidemiology of bone and soft tissue sarcomas Pediatric bone and soft tissue sarcoma. Ed. A. S. Pappo. New York, NY: Springer, 2006. pp. 1–11.
Benevenia J, Cyran FP, Biermann JS, Patterson FR, Leeson MC. Treatment of advanced metastatic lesions of the acetabulum using the saddle prosthesis. Clin Orthop Relat Res. 2004;426:23–31.
Damron TA, Sim FH. Surgical treatment for metastatic disease of the pelvis and the proximal end of the femur. Instr Course Lect. 2000;49:461–70.
Lin PP, Mirza AN, Lewis VO, Cannon CP, Tu SM, Tannir NM, Yasko AW. Patient survival after surgery for osseous metastases from renal cell carcinoma. J Bone Joint Surg Am. 2007;89(8):1794–801. doi: 10.2106/JBJS.F.00603.
Fottner A, Szalantzy M, Wirthmann L, Stähler M, Baur-Melnyk A, Jansson V, Dürr HR. Bone metastases from renal cell carcinoma: patient survival after surgical treatment. BMC Musculoskelet Disord. 2010;11:145. doi: 10.1186/1471-2474-11-145.
O'Connor MI, Sim FH. Salvage of the limb in the treatment of malignant pelvic tumors. J Bone Joint Surg Am. 1989;71(4):481–94.
Apffelstaedt JP, Driscoll DL, Spellman JE, Velez AF, Gibbs JF, Karakousis CP. Complications and outcome of external hemipelvectomy in the management of pelvic tumors. Ann Surg Oncol. 1996;3(3):304–9.
Beadel GP, McLaughlin CE, Aljassir F, et al. Iliosacral resection for primary bone tumors: Is pelvic reconstruction necessary? Clin Orthop Relat Res. 2005;438:22–9.
Schwartz AJ, Kiatisevi P, Eilber FC, Turcotte RE, Isler MH, Ferguson P, Griffin AM, Bell RS, Wunder JS. The Friedman-Eilber resection arthroplasty of the pelvis. Clin. Orthop. Relat. Res. 2009;467(11):2825–30. doi: 10.1007/s11999-009-0844-4.
Gebert C, Gosheger G, Winkelmann W. Hip transposition as a universal surgical procedure for periacetabular tumors of the pelvis. J Surg Oncol. 2009;99(3):169–72. doi: 10.1002/jso.21212.
Aboulafia AJ, Buch R, Mathews J, Li W, Li W, Malawer MM. Reconstruction using the saddle prosthesis following excision of primary and metastatic periacetabular tumors. Clin Orthop Relat Res. 1995;(314):203–13.
Aljassir F, Beadel GP, Turcotte RE, Griffin AM, Bell RS, Wunder JS, Isler MH.. Outcome after pelvic sarcoma resection reconstructed with saddle prosthesis. Clin Orthop Relat Res. 2005;438:36–41.
Harrington KD. The use of hemipelvic allografts or autoclaved grafts for reconstruction after wide resections of malignant tumors of the pelvis. Bone Joint Surg Am. 1992;74(3):331–41.
Beadel GP, McLaughlin CE, Wunder JS, Griffin AM, Ferguson PC, Bell RS. Outcome in two groups of patients with allograft-prosthetic reconstruction of pelvic tumor defects. Clin Orthop Relat Res. 2005;438:30–5.
Dai KR, Yan MN, Zhu ZA, Sun YH. Computer-aided custom-made hemipelvic prosthesis used in extensive pelvic lesions. Arthroplasty. 2007;22(7):981–6. doi: 10.1016/j.arth.2007.05.002.
Sun W, Li J, Li Q, Li G, Cai Z. Clinical effectiveness of hemipelvic reconstruction using computer-aided custom-made prostheses after resection of malignant pelvic tumors. J Arthroplasty. 2011;26(8):1508–13. doi: 10.1016/j.arth.2011.02.018.
Hüfner T, Kfuri M Jr, Galanski M, Bastian L, Loss M, Pohlemann T, Krettek C. New indications for computer-assisted surgery: Tumor resection in the pelvis. Clin Orthop Relat Res. 2004;(426):219–25.
Li J, Wang Z, Guo Z, Chen GJ, Yang M, Pei GX. Irregular osteotomy in limb salvage for juxta-articular osteosarcoma under computer-assisted. J Surg Oncol. 2012;106(4):411–6. doi: 10.1002/jso.23105.
Apffelstaedt JP, Driscoll DL, Karakousis CP. Partial and complete internal hemipelvectomy: Complications and long-term follow-up. J Am Coll Surg. 1995;181(l):43–8.
Baliski CR, Schachar NS, McKinnon JG, Stuart GC, Temple WJ. Hemipelvectomy: A changing perspective for a rare procedure. Can J Surg. 2004;47(2):99–103.
Daigeler A, Lehnhardt M, Khadra A, Hauser J, Steinstraesser L, Langer S, Goertz O, Steinau HU. Proximal major limb amputations: A retrospective analysis of 45 oncological cases. World J Surg Oncol. 2009;7:15. doi: 10.1186/1477-7819-7-15.
Senchenkov A, Moran SL, Petty PM, Knoetgen J 3rd, Clay RP, Bite U, Barnes SA, Sim FH. Predictors of complications and outcomes of external hemipelvectomy wounds: Account of 160 consecutive cases. Ann Surg Oncol. 2008;15(1):355–63. doi: 10.1245/s10434-007-9672-5.
Griesser MJ, Gillette B, Crist M, Pan X, Muscarella P, Scharschmidt T, Mayerson J. Internal and external hemipelvectomy or flail hip in patients with sarcomas: Quality- of-life and functional outcomes. Am J Phys Med Rehabil. 2012;91(l):24–32. doi: 10.1097/PHM.0b013e318232885a.
Beck LA, Einertson MJ, Winemiller MH, DePompolo RW, Hoppe KM, Sim FF. Functional outcomes and quality of life after tumor-related hemipelvectomy. Phys Ther. 2008;88(8):916–27. doi: 10.2522/ptj.20070184.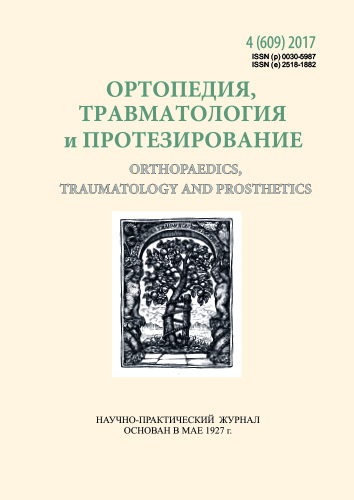 Downloads
Section
ORIGINAL ARTICLES
License
Copyright (c) 2018 Oleg Vyrva, Roman Malyk, Yanina Golovina
This work is licensed under a Creative Commons Attribution 4.0 International License.
The authors retain the right of authorship of their manuscript and pass the journal the right of the first publication of this article, which automatically become available after 6 months from the date of publication under the terms of Creative Commons Attribution License, which allows others to freely distribute the published manuscript with mandatory linking to authors of the original research and the first publication of this one in this journal.
Authors have the right to enter into a separate supplemental agreement on the additional non-exclusive distribution of manuscript in the form in which it was published by the journal (i.e. to put work in electronic storage of an institution or publish as a part of the book) while maintaining the reference to the first publication of the manuscript in this journal.
The editorial policy of the journal allows authors and encourages manuscript accommodation online (i.e. in storage of an institution or on the personal websites) as before submission of the manuscript to the editorial office, and during its editorial processing because it contributes to productive scientific discussion and positively affects the efficiency and dynamics of the published manuscript citation (see The Effect of Open Access).