Contribution of the Kharkiv school of orthopaedic traumatologists to the formation and development of specialized aid to children
Keywords:
orthopaedic traumatological service, history of children orthopaedic, Kharkiv school
Abstract
The articled deals with the history of organization and development of orthopaedic-traumatological aid to children in Kharkiv, this aid being given at first by Prof. Fink Yu. Further development of the specialized aid to children was connected with Sytenko Institute of Spine and Joint Pathology, which was founded in 1907 as the Medical-Mechanical Institute. It was here that, for the first time in the country, outpatient reception of children was isolated, children's orthopaedic department was organized, new methods of conservative and surgical treatment of orthopaedic pathology in children were developed. The article describes achievements of the Institute in treating severe diseases and injuries of the locomotor system in children, as well as the contribution of children's medical establishments of Kharkiv to the development of the specialized aid to children.
References
Робак І. Ю. Організація охорони здоров'я в Харкові за імперської доби (початок XVIII ст.–1916 р.) / І. Ю. Робак. — Харків: ХДМУ, 2008. — 346 с.
Шевченко С. Д. Исторический очерк организационно-методической деятельности Харьковского института ортопедии и травматологии имени профессора М. И. Ситенко (к 75-летию со дня основания) / С. Д. Шевченко, В. Б. Таршис, В. А. Бердников и др.: тез. докладов Республик. науч. конф. «Актуальные проблемы травматологии и ортопедии». — Харьков, 1982. — С. 3–8.
Эльяшберг Ф. Е. Клиника института / Ф. Е. Эльяшберг // 50 лет научной, лечебной и организационно-методической деятельности Украинского научно-исследовательского института ортопедии и травматологии имени проф. М. И. Ситенко (1907–1957 гг.) / [под общей редакцией проф. Н. П. Новаченко]. — Киев: издательство «Здоровье», 1964. — 167 с.
Костриков В. С. Михаил Иванович Ситенко / В. С. Костриков, А. П. Скоблин [под ред. проф. Н. П. Новаченко] // Харьков: Харьковское областное издательство, 1958. — 104 с.
Костриков В. С. Краткий очерк истории Украинского научно-исследовательского института ортопедии и травматологии имени проф. М. И. Ситенко / В. С. Костриков // 50 лет научной, лечебной и организационно-методической деятельности Украинского научно-исследовательского института ортопедии и травматологии им. проф. М. И. Ситенко (1907–1957 гг.) / под ред. проф. Новаченко Н. П. — К.: Здоровье, 1964. — 167 с.
Шевченко С. Д. Проблемы детской ортопедии в Институте им. проф. М. И. Ситенко / С. Д. Шевченко // Ортопедия, травматология и протезирование. — 2007. — № 3. — С. 12–19.
Шевченко С. Д. Врач, ученый и педагог Елена Яковлевна Гончарова / С. Д. Шевченко // История института. Воспоминания о людях, судьбах, времени… / под. ред. Н. А. Коржа. — Х.: Прапор, 2007. — С. 201–202.
Гончарова Е. Я. Оперативное лечение туберкулезного коксита у детей: дис. … доктора мед. наук: 14.00.22 / Елена Яковлевна Гончарова. — Харьков, 1961. — Т. 1 — 309 с.
Гончарова Е. Я. Оперативное лечение туберкулезного коксита у детей: дис. … доктора мед. наук: 14.00.22 / Елена Яковлевна Гончарова. — Харьков, 1961. — Т. 2 — 392 с.
Гончарова Е. Я. Оперативное лечение туберкулезного коксита у детей / Е. Я. Гончарова. — М.: Медицина, 1966. — 232 с.
100 років. Державна установа «Інститут патології хребта та суглобів ім. проф. М. І. Ситенка Академії медичних наук України»: буклет. — Х., 2001. — 95 с.
Корж М. О. Основні етапи діяльності і досягнення інституту імені професора М. І. Ситенка (до 100-річчя з дня заснування) / М. О. Корж, Д. О. Яременко: збірник наук. праць Міжнародної конференції з актуальних проблем артрології та вертебрології, присвяченої 100-річчю ДУ «Інститут патології хребта та суглобів імені професора М. І. Ситенка АМН України»:– Х., 2007. — С. 3–9.
Попсуйшапка А. К. Применение стержней для внеочаговой фиксации в аппарате Илизарова при удлинении бедра / А. К. Попсуйшапка, С. Д. Шевченко / Ортопедия, травматология и протезирование. — 1986. — № 8. — С. 43–47.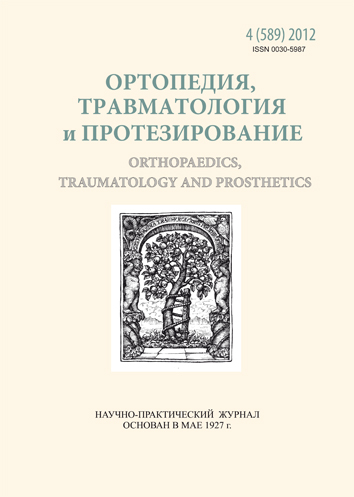 Downloads
License
Copyright (c) 2014 Mykola Korzh, Oleksandr Korolkov, Inna Golubeva, Dmytro Yaremenko, Stanislav Shevchenko
This work is licensed under a Creative Commons Attribution 4.0 International License.
The authors retain the right of authorship of their manuscript and pass the journal the right of the first publication of this article, which automatically become available after 6 months from the date of publication under the terms of Creative Commons Attribution License, which allows others to freely distribute the published manuscript with mandatory linking to authors of the original research and the first publication of this one in this journal.
Authors have the right to enter into a separate supplemental agreement on the additional non-exclusive distribution of manuscript in the form in which it was published by the journal (i.e. to put work in electronic storage of an institution or publish as a part of the book) while maintaining the reference to the first publication of the manuscript in this journal.
The editorial policy of the journal allows authors and encourages manuscript accommodation online (i.e. in storage of an institution or on the personal websites) as before submission of the manuscript to the editorial office, and during its editorial processing because it contributes to productive scientific discussion and positively affects the efficiency and dynamics of the published manuscript citation (see The Effect of Open Access).