A cell culture of the human intervertebral disk
Keywords:
human intervertebral disc, cells, cultivation, cytology
Abstract
The authors studied a possibility to cultivate cells, isolated from fragments of intervertebral disks, which were removed in patients in the process of reparative-restorative operations on the vertebral column for osteochondrosis. An analysis of the structure of intervertebral disk fragments is presented. Proliferative and biosynthetic abilities of cultured cells were studied with purpose of their use for repairing damaged intervertebral disks.
References
Культура високого ступеня щільності мезенхімальних клітин скелетогенних тканин ембріонів щурів / Н.В. Дєдух, С.В. Малишкіна, І.В. Бадрадінова і ін. // Укр. морфологічний альманах. — 2003. — № 1. — С. 23–27.
Малишкіна С.В. Вплив методів вилучення клітин із міжхребцевого диску на їх кількість, стан та проліферативну активність у культурі / С.В. Малишкіна, Л.М. Костицька, В.В. Вельямінова і ін. // Медицина и… — 2007. — № 2 (17). — С. 35–40.
Методические рекомендации по криоконсервированию и цитологическому контролю качества культур клеток и фрагментов ткани. — Харьков: НИИ экспериментальной ветеринарии.— 1998. — 27 с.
Модиш Л. Принципы поляризационно-оптического анализа в изучении соединительной ткани / Л. Модиш, М. Керн, Н.В. Дедух // Арх. анат. гистол. и эмбриол. — 1985. — Т. 88. — С. 5–12.
Продан А.И. Дегнеративные заболевания позвоночника / А.И. Продан, В.А. Радченко, Н.А. Корж. — Т. 2. — Харьков, 2009. — 261 с.
Саркисов Д.С. Микроскопическая техника / Д.С. Саркисов, Ю.Л. Перова. — М.: Медицина, 1996. — 542 с.
Abbushi A. Regeneration of intervertebral disc tissue by resorbable cell-free polyglycolic acid-based implants in a rabbit model of disc degeneration / A. Abbushi, M. Endres, M. Cabraja // Spine. — 2008. — Vol. 33, № 14. — P. 1527–1532.
Chiba K. Metabolism of the extracellular matrix formed by intervertebral disc cells cultured in alginate / K. Chiba, G. Andersson, K. Masuda // Spine. — 1997. — Vol. 22. — № 24. — P. 2885–2893.
Denaro V. Stem cell therapy for intervertebral disc degeneration / V. Denaro, J.D. Kang, G. Vadala // US Musculoskeletal Review. — 2009. — Vol. 4. — P. 43–46.
Feng G. Multipotential differentiation of human annulus fibrosus cells / G. Feng, X. Yang, H. Shang // J. Bone J. Surg. — 2010. — Vol. 92. — P. 675–685.
Gan J.C. Intervertebral disc tissue engineering II: cultures of nucleus pulposus cells / J.C. Gan, P. Ducheyne, E.J. Vresilovic // Clin. Orthop. — 2003. — Vol. 411. — P. 315–324.
Ganey T. Intervertebral disc repair using adipose tissue-derived stem and regenerative cells. Experiments in a canine model / T. Ganey, W.C. Hutton, T. Moseley // Spine. — 2009. — Vol. 34, № 21. — P. 2297–2304.
Gorensek M. Nucleus pulposus repair with cultured autologous elastic cartilage derived chondrocytes / M. Gorensek, C. Jaksimovic, N. Kregar-Velikonja // Cell Mol. Biol. Lett. — 2004. — Vol. 2. — P. 363–373.
Gruber H.E. Human disc cells in monolayer vs 3D culture: cell shape, division and matrix formation / H.E. Gruber, E.N. Hanley // BMC Musculoskeletal Disorders. — 2000. — Vol. 1. — P. 24–29.
Helen W. Three-dimensional culture of annulus fibrosus cells within PDLLA-BIOGLASS composite foam scaffolds: assessment of cell attachment, proliferation and extracellular matrix production / W. Helen, C.L.R. Merry, J.J. Blaker // Biomaterials. — 2007. — Vol. 28, № 11. — P. 2010–2020.
Johannessen W. Nucleus pulposus degeneration and its role in intervertebral disc mechanical function / W. Johannessen // University of Pennsylvania. — 2006. — P. 117–122.
Human annulus fibrosis and nucleus pulposus cells of the intervertebral disc: effect of degeneration and culture system on cell phenotype / T. Kluba, T. Niemeyer, C. Gaissmaier, T. Gründer // Spine. — 2005. — Vol. 30, № 24 — P. 2743–2748.
Le Maitre C.L. Studies of human intervertebral disc cell function in a constrained in vitro tissue culture system / C.L. Le Maitre, J.A. Hoyland, A.J. Freemont // Spine. — 2004. — Vol. 29, № 11. —Р. 1187–1195.
Risbud M.V. Evidence for skeletal progenitor cells in the degenerate human intervertebral disc / M.V. Risbud, A. Guttapalli, T.-T. Tsai // Spine. — 2007 — Vol. 32, № 23. — P. 2537–2544.
Sato M. An experimental study of the regeneration of the intervertebral disc with an allograft of cultured annulus fibrosus cells using a tissue-engineering method / M. Sato, T. Asazuma, M. Ishihara / Spine. — 2003. — Vol. 28. — P. 548–553.
Sato M. Glycosaminoglycan accumulation in primary culture of rabbit intervertebral disc cells / M. Sato, T. Kikuchi, T. Asazuma // Spine. — 2001. — Vol. 26, № 24. — P. 2653–2660.
Stern S. Human intervertebral disc cell culture for disc disorders / S. Stern, K. Lindenhayn, C. Perka // Clin. Orthop. — 2004. — Vol. 419. — P. 238–244.
Zigler E. What's new in spine surgery / E. Zigler, S. Boden, P. Anderson // J. Bone Jt. Surg — 2002. — Vol. 84-A, № 7. — Р. 1282–1288.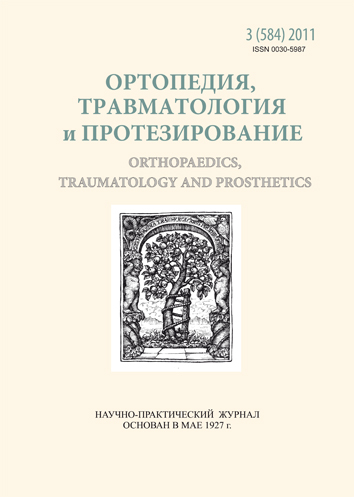 Downloads
Section
ORIGINAL ARTICLES
License
Copyright (c) 2014 Svitlana Malyshkina, Olga Kostytska, Lyudmila Bengus, Iryna Vyshniakova
This work is licensed under a Creative Commons Attribution 4.0 International License.
The authors retain the right of authorship of their manuscript and pass the journal the right of the first publication of this article, which automatically become available after 6 months from the date of publication under the terms of Creative Commons Attribution License, which allows others to freely distribute the published manuscript with mandatory linking to authors of the original research and the first publication of this one in this journal.
Authors have the right to enter into a separate supplemental agreement on the additional non-exclusive distribution of manuscript in the form in which it was published by the journal (i.e. to put work in electronic storage of an institution or publish as a part of the book) while maintaining the reference to the first publication of the manuscript in this journal.
The editorial policy of the journal allows authors and encourages manuscript accommodation online (i.e. in storage of an institution or on the personal websites) as before submission of the manuscript to the editorial office, and during its editorial processing because it contributes to productive scientific discussion and positively affects the efficiency and dynamics of the published manuscript citation (see The Effect of Open Access).