The main causes of the clinical-radiographicvariants of wrist joint osteoarthritis
Keywords:
wrist joints, osteoarthritis, wrist collapse, ulna-wrist conflict, classification
Abstract
Wrist joint osteoarthritis (WJO) – is a widespread damage causing pain in the wrist in 13 % of cases.

The goal: to clarify views on the etiology, pathogenesis and structural-functional state of wrist in case of osteoarthritis, form the principles of generalization of this damage.

Methods: 155 patients with WJO of different etiology underwent surgical treatment, had the basic skialogic parameters quantitatively evaluated, such as indicators of wrist instability, zonal distribution of the degree of degenerative changes in its different areas, depending on its etiology and pathomechanism and functional state of the upper limb on a scale of DASH.

The results: the greatest clinical significance had WJO due to scaphoid fractures (39 %), and Kienbock's disease (20 %), less — due perilunate damages (12 %), idiopathic osteoarthritis (11 %). Among the main pathological mechanisms of WJO — the collapse of the wrist with a rotary installation of scaphoid (the consequences of its fracture, perilunarny injury, Kienbock's disease); rarely ulna-wrist or ilna- radius conflicts, consequences of fractures of distal radius metaepiphysis of the idiopathic form; carpometacarpal arthritis, microfractures with reparative reaction of the back parts of these joints. WJO is characterized by the following symptoms: late referral of patients (at stage II–III), a long period of compensation of arthritic changes till its failure due to excessive stress or minor injury, the dissonance between radiographic and clinical pictures, loss of function predominantly from contracture and synovitis than the from stage of the disease and timing. Classification that was composed on the background of clinical-radiological signs and syndromic principle allows not only to structure WJO according to location and mechanisms of formation, but gives an opportunity to determine the key requirements for a choice of treatment tactics.
References
Conaghan PG, Dickson J, Grant RL. Care and management of osteoarthritis in adults: summary of NICE guidance. Guideline Development Group. BMJ. 200.336(7642):502–503. doi: 10.1136/bmj.39490.608009.AD.
Strafun SS, Tymoshenko SV, Kuzmyk VM, Bezugly A. Diagnostic of wrist pain. Journal of orthopedics, traumatology and prosthetics. 2006;4:21–7.
Kosinska NS. Degenerative-dystrophic lesions of osteo-articular system. Moskow: Medgiz, 1961. pp.17–21.
Ashkenazi AI. Surgery of wrist joint. Moskow: Medicine, 1990. pp.55–71.
Lindscheid RL, Dobyns JH, Beabout JW, Bryan RS. Traumatic instability of the wrist, diagnosis,classification and pathomechanics. J Bone Joint Surg. Am. 1972;54–A(8):1612–32.
Wolfe SW, Garcia-Elias M, Kitay A. Carpal instability nondissociative. J Am. Acad. Orthop. Surg. 2012;20(9):575–85. doi: 10.5435/JAAOS-20-09-575.
Bunker DL, Pappas G, Moradi P, Dowd MB. Radiographic signs of static carpal instability with distal end radius fractures: is current treatment adequate? Hand Surg. 2012;17(3):325–30. doi: 10.1142/S0218810412500256.
Redeker J, Vogt PM. Carpal instability. Chirurg. 2011.82(1):85–93. doi: 10.1007/s00104-009-1867-9.
Ferreres A, Garcia-Elias M, Plaza R. Long-term results of lunocapitate arthrodesis with scaphoid excision for SLAC and SNAC wrists. J Hand Surg. Eur. 2009;34(5):603–8, doi: 10.1177/1753193409105683.
Gaston RG, Greenberg JA, Baltera RM, Mih A, Hastings H. Clinical outcomes of scaphoid and triquetral excision with capitolunate arthrodesis versus scaphoid excision and four-corner arthrodesis. J Hand Surg. Am. 2009;34(8):1407–12. doi: 10.1016/j.jhsa.2009.05.018.
Spaans AJ, Laarhoven CMvan, Schuurman AH, Minnen LPvan. Interobserver agreement of the Eaton-Littler classification system and treatment strategy of thumb carpometacarpal joint osteoarthritis. J Hand Surg. Am. 2011;36:1467–70. doi: 10.1016/j.jhsa.2011.06.017.
Smet LD, Vandenberghe L, Degreef I. Ulnar impaction syndrome: ulnar shortening vs. arthroscopic wafer procedure. J Wrist Surg. 2014;3(2):98–100. doi: 10.1055/s-0034-1375966.
Rayan GM. Pisiform ligament complex syndrome andpisotriquetral arthrosis Hand Clin. 2005;21:507–17.
White L, Clavijo J, Gilula LA, Wollstein R. Classification system for isolated arthritis of the scaphotrapeziotrapezoidal joint. Scand. J. Plast. Reconstr. Surg. Hand Surg. 2010;44(2):112–7. doi: 10.3109/02844311003675388.
Crisco JJ, Heard WM, Rich RR, Paller DJ, Wolfe SW. The mechanical axes of the wrist are oriented obliquely to the anatomical axes. J Bone Joint Surg. Am. 2011;93(2):169–77. doi:10.2106/JBJS.I.01222.
Rainbow MJ, Kamal RN, Leventhal E, Akelman E, Moore DC, Wolfe SW, Crisco JJ In vivo kinematics of the scaphoid, lunate, capitate, and third metacarpal in extreme wrist flexion and extension. J Hand Surg. 2013;38(2):278–88. doi: 10.1016/j.jhsa.2012.10.035.
Mann FA, Wilson AJ, Gilula LA. Radiographic evaluation of the wrist: what does the hand surgeon want to know? Radiology. 1992;184:15–24.
Saffar P. Chondrocalcinosis of the wrist. J Hand Surg. Br. 2004;29(5):486–93.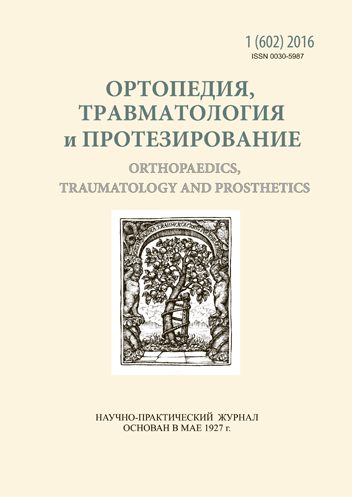 Downloads
Section
HELP TO PRACTITIONER. LECTURES
License
Copyright (c) 2016 Sergey Strafun, Sergey Timoshenko
This work is licensed under a Creative Commons Attribution 4.0 International License.
The authors retain the right of authorship of their manuscript and pass the journal the right of the first publication of this article, which automatically become available after 6 months from the date of publication under the terms of Creative Commons Attribution License, which allows others to freely distribute the published manuscript with mandatory linking to authors of the original research and the first publication of this one in this journal.
Authors have the right to enter into a separate supplemental agreement on the additional non-exclusive distribution of manuscript in the form in which it was published by the journal (i.e. to put work in electronic storage of an institution or publish as a part of the book) while maintaining the reference to the first publication of the manuscript in this journal.
The editorial policy of the journal allows authors and encourages manuscript accommodation online (i.e. in storage of an institution or on the personal websites) as before submission of the manuscript to the editorial office, and during its editorial processing because it contributes to productive scientific discussion and positively affects the efficiency and dynamics of the published manuscript citation (see The Effect of Open Access).