Anatomical large femoral heads: early complications and mid term results
Keywords:
total hip arthroplasty, anatomical large head, anatomical center of rotation, mega-head, mid term results
Abstract
Purpose: mechanical complications such as malrestoration of hip anatomy still impede surgical results and patient satisfaction after THA. Anatomical femoral «mega-heads» are a novel approach which enables a surgeon to use a large diameter metal on metal implant to restore hip anatomy. Ability to place femoral head eccentrically on the femoral taper results in possible anteversion, retroversion, offset and lengthening. Our hypothesis is that use of this device will result in more accurate anatomical restoration and clinical results.

Methods: 64 anatomical mega-head arthroplasties were evaluated. Preoperative planning was done in order to determine the desired position of the head, restore the anatomy and avoid leg lengthening. Patients were observed at an average of 50-months for both subjective and objective outcomes. Radiograph analysis assessed anatomical restoration. Results: 51 of the 64 hips were available for follow up. In 35 the head was placed eccentrically. In 20 the positioning was inferior, 6 — posterior, 3 — anterior, 1 — superior, and 4 inferior and posterior. Harris Hip and SF-36 scores improved significantly (P < 0.001). Mean radiographic limb and offset discrepancy were 0.1 and 0.01mm respectively. Six patients (11.7 %) underwent revision surgery; elevated metal ion levels and pseudotumor (3), acetabular component loosening (2), and unexplained hip pain (1).

Conclusions: The novel anatomical femoral mega-head allows versatility in restoration of normal hip anatomy. Mid-term follow-up showed a higher than anticipated rate of complications for this cup design and reduced longevity of the implant. Novel ways need to be explored to allow such versatility in restoring hip anatomy.
References
Campbell WC, Canale ST, Beaty JH. Campbell's operative orthopaedics. 11th ed. Philadelphia, PA: Mosby / Elsevier, 2008. 5512 p.
Williamson JA, Reckling FW Limb length discrepancy and related problems following total hip joint replacement. Clin. Orthop. Relat. Res. 1978;(134):135–8.
Woo RY, Morrey BF. Dislocations after total hip arthroplasty. J Bone Joint Surg. Am. 1982;64-A:1295–1306.
Toogood PA, Skalak A, Cooperman DR. Proximal femoral anatomy in the normal human population. Clin. Orthop. Relat. Res. 2009;467(4):876–85. doi: 10.1007/s11999-008-0473-3.
Dangles CJ, Altstetter CJ. Failure of the modular neck in a total hip arthroplasty. J Arthroplasty. 2010;25(7):1169.e5-e7. doi: 10.1016/j.arth.2009.07.015.
Wilson DA, Dunbar MJ, Amirault JD, Farhat Z. Early failure of a modular femoral neck total hip arthroplasty component: a case report. J Bone Joint Surg. Am. 2010;92(6):1514–7. doi: 10.2106/JBJS.I.01107.
Huot Carlson JC, Van Citters DW, Currier JH, Bryant AM, Mayor MB, Collier JP. Femoral stem fracture and in vivo corrosion of retrieved modular femoral hips. J Arthroplasty. 2012;27(7):1389–96. doi: 10.1016/j.arth.2011.11.007.
Della Valle AG, Padgett DE, Salvati EA. Preoperative planning for primary total hip arthroplasty. J Am. Acad. Orthop. Surg. 2005;13(7):455–62.
Lecerf G, Fessy MH, Philippot R, Massin P, Giraud F, Flecher X, Girard J, Mertl P, Marchetti E, Stindel E. Femoral offset: anatomical concept, definition, assessment, implications for preoperative templating and hip arthroplasty. Orthop. Traumatol. Surg. Res. 2009;95(3):210–9. doi: 10.1016/j.otsr.2009.03.010.
Sakai T, Sugano N, Nishii T, Haraguchi K, Ochi T, Ohzono K. Optimizing femoral anteversion and offset after total hip arthroplasty, using a modular femoral neck system: an experimental study. J Orthop. Sci. 2000;5(5):489–4.
Edwards BN, Tullos HS, Noble PC. Contributory factors and etiology of sciatic nerve palsy in total hip arthroplasty. Clin. Orthop. Relat. Res. 1987;(218):136–41.
Johanson NA, Pellicci PM, Tsairis P, Salvati EA. Nerve injury in total hip arthroplasty. Clin. Orthop. Relat. Res. 1983;(179):214–22.
Burroughs BR, Hallstrom B, Golladay GJ, Hoeffel D, Harris WH. Range of motion and stability in total hip arthroplasty with 28-, 32-, 38-, and 44-mm femoral head sizes. J. Arthroplasty. 2005;20(1):11–9.
Cuckler JM, Moore KD, Lombardi AV Jr, Mc Pherson E, Emerson R. Large versus small femoral heads in metal-on-metal total hip arthroplasty. J Arthroplasty. 2004;19(8 Suppl. 3):41–4.
Malviya A, Ramaskandhan J, Holland JP, Lingard EA. Metal-on-metal total hip arthroplasty. J Bone Joint Surg. Am. 2010;92(7):1675–83. doi: 10.2106/JBJS.I.01426.
Bolland BJ, Culliford DJ, Langton DJ, Millington JP, Arden NK, Latham JM. High failure rates with a large-diameter hybrid metal-on-metal total hip replacement clinical, radiological and retrieval analysis. J Bone Joint Surg. Br. 2011;93(5)608–15. doi: 10.1302/0301-620X.93B5.26309.
Medical Device Alert: all metal-on-metal (MOM) hip replacements: U.K. Medicines and Healthcare products Regulatory Agency (MHRA): 2010.
Steele GD, Fehring TK, Odum SM, Dennos AC, Nadaud MC. Early failure of articular surface replacement XL total hip arthroplasty. J. Arthroplasty. 2011;26(6 Suppl.):14–8. doi: 10.1016/j.arth.2011.03.027.
Pastides PS, Dodd M, Sarraf KM, Willis-Owen CA. Trunnionosis: a pain in the neck. World J Orthop. 2013;4(4):161–6. doi: 10.5312/wjo.v4.i4.161.
Chana R, Esposito C, Campbell PA, Walter WK, Walter WL. Mixing and matching causing taper wear: corrosion associated with pseudotumour formation. J. Bone Joint Surg. Br. 2012;94(2):281–6. doi: 10.1302/0301-620X.94B2.27247.
Ranawat CS, Rodriguez JA. Functional leg-length inequality following total hip arthroplasty. J. Arthroplasty. 1997;12:359–64.
Lewinnek GE, Lewis JL, Tarr R, Compere CL, Zimmerman JR. Dislocations after total hip-replacement arthroplasties. J Bone Joint Surg. Am. 1978;60:217–20.
Barrack RL. Dislocation after total hip arthroplasty: implant design and orientation. J. Am. Acad. Orthop. Surg. 2003;11(2):89–99.
Learmonth ID, Cavendish VJ. Outcome assessment following total hip replacement. Orthopedics. 2005;28(8 Suppl):827–30.
Lewin-Epstein N, Sagiv-Schifter T, Shabtal EL, Shmueli A. Validation of the 36-item short-form Health Survey (Hebrew version) in the adult population of Israel. Med. Care. 1998;36(9):1361–70.
De Haan R, Pattyn C, Gill HS. Correlation between inclination of the acetabular component and metal ion levels in a metal-on-metal hip resurfacing replacement. J Bone Joint Surg. Br. 2008;90(10):1291–7. doi: 10.1302/0301-620X.90B10.20533.
Dastane M, Dorr LD, Tarwala R, Wan Z. Hip offset in total hip arthroplasty: quantitative measurement with navigation. Clin. Orthop. Relat. Res. 2011;469(2):429–36. doi: 10.1007/s11999-010-1554-7.
Little NJ, Busch CA, Gallagher JA, Rorabeck CH, Bourne RB. Acetabular polyethylene wear and acetabular inclination and femoral offset. Clin. Orthop. Relat. Res. 2009;467:(11).
Asayama I, Naito M, Fujisawa M, Kambe T. Relationship between radiographic measurements of reconstructed hip joint position and the Trendelenburg sign. J. Arthroplasty. 2002;17(6):747–51.
Learmonth ID, Young C, Rorabeck C. The operation of the century: total hip replacement. Lancet. 2007;370:1508–19.
Anand R, Graves SE, de Steiger RN, Davidson DC, Ryan P, Miller LN, Cashman K. What is the benefit of introducing new hip and knee prostheses? J Bone Joint Surg. Am. 2011;93(Suppl 3):51–4.
Inc. DO. DePuy ASR™ Hip Recall Resource Packet. 2013.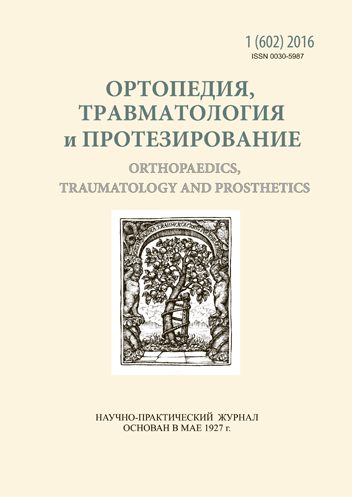 Downloads
Section
ORIGINAL ARTICLES
License
Copyright (c) 2016 Alon Grundshtein, Ofir Chechik, Ran Schwarzkopf, Ely Steinberg, Oleg Dolkart, Shmuel Dekel, Nimrod Snir
This work is licensed under a Creative Commons Attribution 4.0 International License.
The authors retain the right of authorship of their manuscript and pass the journal the right of the first publication of this article, which automatically become available after 6 months from the date of publication under the terms of Creative Commons Attribution License, which allows others to freely distribute the published manuscript with mandatory linking to authors of the original research and the first publication of this one in this journal.
Authors have the right to enter into a separate supplemental agreement on the additional non-exclusive distribution of manuscript in the form in which it was published by the journal (i.e. to put work in electronic storage of an institution or publish as a part of the book) while maintaining the reference to the first publication of the manuscript in this journal.
The editorial policy of the journal allows authors and encourages manuscript accommodation online (i.e. in storage of an institution or on the personal websites) as before submission of the manuscript to the editorial office, and during its editorial processing because it contributes to productive scientific discussion and positively affects the efficiency and dynamics of the published manuscript citation (see The Effect of Open Access).