Principles of pharmacological therapy of comorbid diseases in patients with orthopedic pathology
Keywords:
Comorbidity, recommendations, conservative therapy
Abstract
Comorbidity is one of the leading problems in clinical practice. Interaction of diseases, involutive processes of natural aging and pathomorphosis of drugs significantly change clinical picture and course of the disease, the nature and severity of complications, limit or complicate the treatment and diagnostic process. Objective. To analyze current information on available recommendations for the treatment of comorbid diseases in patients with orthopedic pathology. Materials. An overview of the recommendations of the European Society of Cardiology, European Society of Hypertension, European Society for Vascular Surgery, Ukrainian Gastroenterological Association and American Diabetes Association for the period 2017–2019 is presented. Results. The first stage in the treatment of arterial hypertension is the lifestyle optimization, and the initial therapy of most patients with hypertension should be a combination of two drugs. Management of patients with lower extremity artery disease is associated with an increased risk of any cardiovascular events. Therefore, preventive measures are of particular importance. Gastropathies induced by non-steroidal anti-inflammatory drugs are widespread in orthopedic practice. In the prevention of their occurrence, a well-chosen gastroprotective therapy is important. Once the diagnosis of diabetes is made, lifestyle modification should be started immediately along with the start of pharmacotherapy. Metformin remains the first-line drug for treatment, drugs of other groups can be prescribed when there are contraindications to metformin. In the treatment of neuropathic pain in diabetes or pre-diabetes, only pharmacological treatment strategies are effective. Conclusions. In most cases, a number of comorbidities with timely diagnosis and compliance with the algorithms of medical care can be corrected and treated. Properly selected conservative therapy can reduce the risk of peri- and postoperative complications.
References
Global Burden of Disease Risk Factor Collaborators. Global, regional, and national comparative risk assessment of 84 behavioural, environmental and occupational, and metabolic risks or clusters of risks for 195 countries and territories, 1990–2017: a systematic analysis for the Global Burden of Disease Study 2017. GBD 2017 Risk Factor Collaborators. Lancet, 392 (10159), 1923-1994. https://doi.org/10.1016/S0140-6736(18)32225-6
(2019). International Diabetes Federation. IDF Diabetes Atlas. 9th ed. Brussels, Belgium : International Diabetes Federation, Retrieved from: https://www.diabetesatlas.org/en.
Williams, B., Mancia, G., Spiering, W., Agabiti Rosei, E., Azizi, M., Burnier, M., … & Desormais, I. (2018). 2018 practice guidelines for the management of arterial hypertension of the European Society of Cardiology and the European society of hypertension. Journal of Hypertension, 36(12), 2284-2309. https://doi.org/10.1097/hjh.0000000000001961
Bilchenko, A. V. (2018). New European guidelines for the treatment of arterial hypertension (ESH / ESC, 2018). Health of Ukraine, 3(58), 21-23. [in Russian]
Beckett, N., Peters, R., Leonetti, G., Duggan, J., Fagard, R., Thijs, L., … & Bulpitt, C. (2014). Subgroup and per-protocol analyses from the hypertension in the very elderly trial. Journal of Hypertension, 32(7), 1478-1487. https://doi.org/10.1097/hjh.0000000000000195
Gupta, P., Patel, P., Štrauch, B., Lai, F. Y., Akbarov, A., Gulsin, G. S., … & Tomaszewski, M. (2017). Biochemical screening for nonadherence is associated with blood pressure reduction and improvement in adherence. Hypertension, 70(5), 1042-1048. https://doi.org/10.1161/hypertensionaha.117.09631
Zhuravleva, M. V., Kukes, V. G., Prokofiev, A. B., Serebrova, S. Yu., Gorodetskaya, G. I., & Berdnikova, N. G. (2016). Rational use of NSAIDs is a balance of efficacy and safety (literature review). International Journal of Applied and Basic Research, 6-4, 687–696. [in Russian]
Westin, G. G., Armstrong, E. J., Bang, H., Yeo, K., Anderson, D., Dawson, D. L., … & Laird, J. R. (2014). Association between Statin medications and mortality, major adverse cardiovascular event, and amputation-free survival in patients with critical limb ischemia. Journal of the American College of Cardiology, 63(7), 682-690. https://doi.org/10.1016/j.jacc.2013.09.073
Bagger, J. P., Helligsoe, P., Randsbaek, F., Kimose, H. H., & Jensen, B. S. (1997). Effect of Verapamil in intermittent claudication. Circulation, 95(2), 411-414. https://doi.org/10.1161/01.cir.95.2.411
Paravastu, S. C., Mendonca, D. A., & Da Silva, A. (2013). Beta blockers for peripheral arterial disease. Cochrane Database of Systematic Reviews. https://doi.org/10.1002/14651858.cd005508.pub3
Anokhina, G. A., Bondarenko, O. O., & Dorofeev, A. E. (2017). Recommendations of the Ukrainian Gastroenterological Association for primary and secondary health care physicians for the prevention and treatment of NSAID-induced gastropathies. Kyiv. Retrieved from: https://ukrgastro.com.ua/wp-content/uploads/2017/10/%D0% A0%D0%B5%D0%BA%D0%BE%D0%BC%D0%B5%D0%BD%D0%B4%D0%B0%D1%86%D0%B8%D0% B8-% D0%A3%D0%93%D0%90.pdf. [in Ukrainian]
Lanza, F. L., Chan, F. K., & Quigley, E. M. (2009). Guidelines for prevention of NSAID-related ulcer complications. American Journal of Gastroenterology, 104(3), 728-738. https://doi.org/10.14309/00000434-200903000-00035
Yeomans, N. D., Tulassay, Z., Juhász, L., Rácz, I., Howard, J. M., Van Rensburg, C. J., Swannell, A. J., & Hawkey, C. J. (1998). A comparison of omeprazole with Ranitidine for ulcers associated with nonsteroidal antiinflammatory drugs. New England Journal of Medicine, 338(11), 719-726. https://doi.org/10.1056/nejm199803123381104
Malfertheiner, P., Megraud, F., O'Morain, C. A., Atherton, J., Axon, A. T., Bazzoli, F., … & Kuipers, E. J. (2012). Management ofHelicobacter pyloriinfection—the Maastricht IV/ Florence consensus report. Gut, 61(5), 646-664. https://doi.org/10.1136/gutjnl-2012-302084
Pharmacologic approaches to glycemic treatment: Standards of medical care in diabetes—2019. (2018). Diabetes Care, 42(Supplement 1), S90-S102. https://doi.org/10.2337/dc19-s009
Waldfogel, J. M., Nesbit, S. A., Dy, S. M., Sharma, R., Zhang, A., Wilson, L. M., … & Robinson, K. A. (2017). Pharmacotherapy for diabetic peripheral neuropathy pain and quality of life. Neurology, 88(20), 1958-1967. https://doi.org/10.1212/wnl.0000000000003882
Raskin, P., Huffman, C., Toth, C., Asmus, M. J., Messig, M., Sanchez, R. J., & Pauer, L. (2013). Pregabalin in patients with inadequately treated painful diabetic peripheral neuropathy. The Clinical Journal of Pain, 1. https://doi.org/10.1097/ajp.0b013e31829ea1a1
Finnerup, N. B., Attal, N., Haroutounian, S., McNicol, E., Baron, R., Dworkin, R. H. … & Wallace, M. (2015). Pharmacotherapy for neuropathic pain in adults: A systematic review and meta-analysis. The Lancet Neurology, 14(2), 162-173. https://doi.org/10.1016/s1474-4422(14)70251-0
Pop-Busui, R., Boulton, A. J., Feldman, E. L., Bril, V., Freeman, R., Malik, R. A., Sosenko, J. M., & Ziegler, D. (2016). Diabetic neuropathy: A position statement by the American Diabetes Association. Diabetes Care, 40(1), 136-154. https://doi.org/10.2337/dc16-2042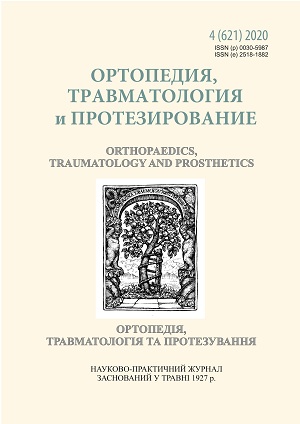 Section
ORIGINAL ARTICLES
License
Copyright (c) 2021 Nataliya Prytula, Inga Fedotova, Iryna Korzh
This work is licensed under a Creative Commons Attribution 4.0 International License.
The authors retain the right of authorship of their manuscript and pass the journal the right of the first publication of this article, which automatically become available after 6 months from the date of publication under the terms of Creative Commons Attribution License, which allows others to freely distribute the published manuscript with mandatory linking to authors of the original research and the first publication of this one in this journal.
Authors have the right to enter into a separate supplemental agreement on the additional non-exclusive distribution of manuscript in the form in which it was published by the journal (i.e. to put work in electronic storage of an institution or publish as a part of the book) while maintaining the reference to the first publication of the manuscript in this journal.
The editorial policy of the journal allows authors and encourages manuscript accommodation online (i.e. in storage of an institution or on the personal websites) as before submission of the manuscript to the editorial office, and during its editorial processing because it contributes to productive scientific discussion and positively affects the efficiency and dynamics of the published manuscript citation (see The Effect of Open Access).