Mathematical and computer modeling of a new endoprosthesis with a carbon-carbon composite for interbody fusion of a lumbar spine
Keywords:
finite-element models, interbody fusion, implant, vertebral body, stress-strain state, contact pressure, carbon-carbon composite
Abstract
Endoprostheses for interbody fusion should have not only biocompatibility and high strength characteristics, but also good visualization with additional research methods (CT, MRI). One such material is carbon. Aim: using mathematical modeling (the finite element method) to develop a model of the interbody prosthesis from a carbon-carbon composite and evaluate the stress-strain state of the vertebral body-implant system.
Methods: models created in SolidWorks software. 18 design schemes with endoprostheses from a carbon-carbon composite were developed and studied. Bending load was carried out by angular displacements (2°), compressive — by applying a force of 500 N to the upper cubic element. Additional symmetry conditions were also simulated.
Results: a parametric model of the biomechanical system of the lumbar spine was constructed. The smallest equivalent stresses were obtained in the design scheme M17, and the largest — in M13. In the bone elements of the systems, they did not exceed the ultimate strength limits for cortical (160 MPa) and cancellous (18–22 MPa) bones. Contact pressure and displacement are determined for all design schemes.
Conclusions: as a result of the numerical values and distribution fields of the components of the stress-strain state in the elements of the studied systems, it was found that the use of the proposed endoprosthesis made of a carbon-carbon composite, the geometric parameters of which correspond to the design scheme M17, is effective for achieving additional stabilization in the system «vertebral body – implant».
References
Metal-related artifacts in instrumented spine. Tehnigues for
reducing artifacts in CT and MR: State of the art / P. Stradiotti,
A. Curti, G. Castellazzi, A. Zerbi // European Spine Journal. —
— Vol. 18, Suppl. 1. — P. 102–108. — DOI: 10.1007/
s00586-009-0998-5.
Экспериментально-клиническое обоснование применения
углеродных биоматериалов в ортопедии и травматологии
(обзор литературы) / Н. А. Корж, Н. В. Дедух, А. А. Тяже-
лов, Л. Чжоу // Ортопедия, травматология и протезирова-
ние. — 2017. — № 2. — С. 114–121. — DOI: 10.15674/0030-
-121.
Histomorphometric evaluation of bone repair after carbon/
carbon composite implantation in lumbar vertebrae in rats /
A. Popov, N. Ashukina, V. Maltseva [et al.] // Georgian Medical
News. — 2019. — № 11 (296). — P. 117–121.
Використання комп'ютерних технологій при розробці
імплантату хребців для заднього спондилодезу у грудному
відділі хребта / М. О. Корж, В. О. Куценко, І. Б. Тимченко
[та ін.] // Травма. — 2019. — Т. 20, № 3. — С. 34–45. —
DOI: 10.22141/1608-1706.3.20.2019.172090.
Математичне моделювання нового ендопротеза для
міжтілового спондилодезу поперекового відділу хребта
/ М. О. Корж, В. О. Куценко, А. І. Попов [та ін.] // Ортопедия,
травматология и протезирование. — 2019. — № 4 (617). —
С. 42–49. — DOI: 10.15674/0030-59872019442-49.
Anterior cervical fusion: a finite element model study on motion
segment stability including effect of osteoporosis / G. B. Andersson,
R. N. Natarajan, B. H. Chen, H. S. An // Spine. —
— Vol. 25 (8). — P. 955–961. — DOI: 10.1097/00007632-
-00010.
К вопросу о построении параметрических моделей шейного
отдела позвоночника / Ю. В. Веретельник, О. В. Веретельник,
И. Б. Тимченко [и др.] // Вестник НТУ «ХПИ». — 2007. —
№ 29. — С. 16–20. — (Серия: Машиноведение и САПР).
Nolan J. P. Biomechanical evaluation of the extensor musculature
of the cervical / J. P. Nolan, H. H. Sherk // Spine. —
— Vol. 13 (7). — P. 9–11. — DOI: 10.1097/00007632-
-00003.
Cervical human verterbrae: quantitative three-dimensional
anatomy of the middle and lower regions / M. M. Panjabi,
J. Durenceau, V. Goel [et.al.] // Spine. — 1991. — Vol. 16 (8). —
P. 861–869. — DOI: 10.1097/00007632-199108000-00001.
Веретельник О. В. Моделирование напряжений в шейном
отделе позвоночника с ортезом / О. В. Веретельник //
Вестник НТУ «ХПИ». — 2008. — № 9. — C. 22–29. —
(Серия: Машиноведение и САПР).
Веретельник О. В. Обзор конструктивных схем и решений
по моделированию ШОП и ортезов / О. В. Веретельник //
Вестник НТУ «ХПИ». — 2008. — № 42. — С. 3–8. —
(Серия: Машиноведение и САПР).
ANSYS Workbench — http://www.ansys.com.
Zienkiewicz O. С. The Finite Element Method. Vol. 1: Basic
Formulation and Linear Problems / O. С. Zienkiewicz,
R. L. Taylor. — 4th ed. — McGraw-Hill, Maidenhead, England,
— 648 p.
Зенкевич О. Метод конечных элементов в технике / О. Зен-
кевич. — М. : Мир, 1975. — 541 с.
Математическое моделирование напряженно-деформи-
рованного состояния системы «кость — имплантат» при
межвертельном переломе бедренной кости / И. В. Бойко,
А. В. Сабсай, В. Б. Макаров, О. В. Раджабов // Вісник
СевНТУ: збірник наукових праць. — 2012. — Вип. 133. —
С. 355–360 — (Серія: Механіка, енергетика, екологія).
Особенности прочностных характеристик губчатой кости
при заболеваниях тазобедренного сустава / И. А. Кукин,
И. В. Кирпичев, Л. Б. Маслов, С. В. Вихрев // Fundamental
Research. — 2013. — № 7. — С. 328–333.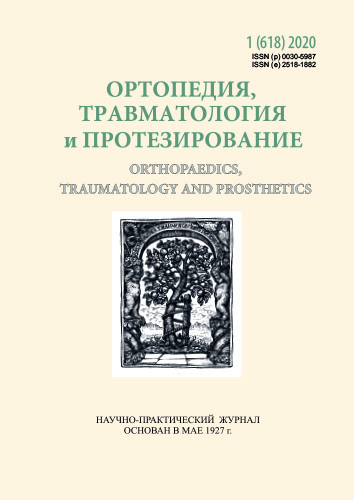 Downloads
How to Cite
Korzh, M., Radchenko, V. ., Kutsenko, V., Popov, A., Veretelnik, O., Timchenko, I., Tkachuk, M., & Perfiliev, O. (2021). Mathematical and computer modeling of a new endoprosthesis with a carbon-carbon composite for interbody fusion of a lumbar spine. ORTHOPAEDICS, TRAUMATOLOGY and PROSTHETICS, (1), 46–53. https://doi.org/10.15674/0030-59872020146-53
Section
ORIGINAL ARTICLES
License
Copyright (c) 2020 Mykola Korzh, Volodymyr Radchenko, Volodymyr Kutsenko, Andrey Popov, Oleg Veretelnik, Iryna Timchenko, Mykola Tkachuk, Olexandr Perfiliev
This work is licensed under a Creative Commons Attribution 4.0 International License.
The authors retain the right of authorship of their manuscript and pass the journal the right of the first publication of this article, which automatically become available from the date of publication under the terms of Creative Commons Attribution License, which allows others to freely distribute the published manuscript with mandatory linking to authors of the original research and the first publication of this one in this journal.
Authors have the right to enter into a separate supplemental agreement on the additional non-exclusive distribution of manuscript in the form in which it was published by the journal (i.e. to put work in electronic storage of an institution or publish as a part of the book) while maintaining the reference to the first publication of the manuscript in this journal.
The editorial policy of the journal allows authors and encourages manuscript accommodation online (i.e. in storage of an institution or on the personal websites) as before submission of the manuscript to the editorial office, and during its editorial processing because it contributes to productive scientific discussion and positively affects the efficiency and dynamics of the published manuscript citation (see The Effect of Open Access).