Histopathology and dependencies of morphological parameters of the state of tendon autografts of the anterior crucial ligaments in patients with a relapse of their knee joint instability
Keywords:
crucial ligament, knee joint, tendinous autotransplant, relapse of knee instability, histopathology, correlation of morphological characteristics
Abstract
The purpose of the present work was to reveal dependencies between pathological changes, which result in morphofunctional autograft insufficiency in cases of relapses of anteromedial instability of the knee joint, on the basis of histological analysis and determination of parameters of a number of semiquantitative morphological indices, these characterizing the state of tendon autografts of the anterior crucial ligament (AGACL). The study material consisted of 30 tendon graft resectates, which were taken from the patellar ligament, semitendinous and gracilis muscles of the thigh. It was revealed that before the moment of
a relapse of anteromedial instability of the knee joint AGACL contained several connective-tissue varieties: dense well-formed tendinous tissue, which is partially necrotized; immature and mature fibrous tissue, whose structure is close to that of the normal crucial ligament; granulation and angiofibrous tissue, islets of cartilaginous and osseous tissues. AGACL revealed dystrophic, ischaemic-necrotic, productive-inflammatory changes of a low activity, which in the aggregate might compose the graft instability basis. Some pairs of semiquantitative morphological indices of the state of AGACL had reliable correlations with different directions, which had some differences in the femoral and tibial parts.
References
Morphological aspects of anterior cruciate ligament autograft insufficiency / A. A. Akhpashev, N. V. Zagorodniy, N. N. Shchegoleva et. al. // Vestnik novych meditsinskikh tekhnologiy. — 2007. — Vol. 14, № 4. — Р. 47–49.
Arthroscopic and histologic assessment of graft remodeling character after autoplastic replacement of anterior cruciate ligament of knee joint / G. D. Lazishvili, A. B. Shekhter, M. P. Lisitsyn et. al. // Vestnik travmatologii i ortopedii im. N. N. Priorova. — 2007. — № 1. — P. 28–33.
Orletskiy A. K., Butkova L.L., Tymchenko D.O. The results of anterior cruciate ligament replacement with usage of tendon grafts from semitendinosus and gracilis muscles and patellar tendon / A. K. Orletskiy, L. L. Butkova, D. O. Tymchenko // Vestnik travmatologii i ortopedii im. N. N. Priorova. — 2011. — № 4. — P. 16–18.
Skoroglyadov P. A. Arthroscopic replacement of knee joint anterior cruciate ligament with free autograft from the tendon of rectus muscle quadriceps femoris: authors abstract dis. … kand. med. sciences; 14.00.22. — «Traumatology and Orthopedics» / P. A. Skoroglyadov. — Moscow, 2008. — 20 р.
Amiel D. The natural history of the anterior cruciate ligament autograft of patellar tendon origin / D. Amiel, J. B. Kleiner, W. H. Akeson // Am. J. Sports Med. — 1986. — Vol. 14, № 6. — P. 449–462.
The Outcome at 15 years of endoscopic anterior cruciate ligament reconstruction using hamstring tendor autograft for «isolated» anterior cruciate ligament rupture / H. E. Bourke, D. J. Gordon, L. J. Salmon et al. // J. Bone Joint Surg. — 2012. — Vol. 94-B, № 5. — P. 630–637.
Carmichael J. R. Why bone–patella tendon–bone grafts should still be considered the gold standard for anterior cruciate liga¬ment reconstruction / J. R. Carmichael, M. J. Cross // Brit. J. Sports Med. — 2009. — Vol. 43, № 5. — P. 323–325.
Deehan D. J. The biology of integration of the anterior cruciate ligament / D. J. Deehan, T. E. Cawston // J. Bone and Joint Surg. — 2005. — Vol. 87-B, № 7. — P. 889–895.
Natural history of a hamstring tendon autograft used for anterior cruciate ligament reconstrucction in a sheep model / V. K. Goradia, M. C. Rochat, M. Rida, W. A. Grana // Am. J. Sports Med. — 2000. — Vol. 28, № 1. — P. 40–46.
A Prospective Randomized Study of Pattelar veosus Hamstring Tendor Autografts for Anterior Cruciate Ligament Reconstruc¬tion / K. A. Jansson, E. Linco, J. Sandelin, A. Harilainen // Am. J. Sports Med. — 2003. — Vol. 31, № 1. — P. 12–18.
The ligamentization process: A 4 year case Study following ACL reconstruction with a semitendinosis graft / J. G. Lane, P. McFadden, K. Bowden, D. Amiel // Arthroscopy. — 1993. — Vol. 9, № 2. — P. 149–153.
The «Ligamentization» prouss in Human Anterior Cruciate Ligament Reconstruction With Autogenous Patellar and Ham¬string Tendons. A Biochemical Study / K. Marumo, M. Saito, T. Yamagishi, K. Fujii // Am. J. Sports Med. — 2005. — Vol. 33, № 8. — P. 1166–1173.
A multidisciplinary study of the healing of an intraarticular anterior cruciate ligament graft in a goat model / Ch. D. Papa¬georgiou, C. B. Ma, S. D. Abramovitch et al. // Am. J. Sports Med. — 2001. — Vol. 29, № 5. — P. 620–626.
Arthroseopic and histologic analysis of human patellar tendon autografts used for anterior cruciate ligament reconstruction / B. Rougraff, K. D. Shelbourne, P. K. Gerth, J. Warner // Am. J. Sports Med. — 1993. — Vol. 21, № 2. — P. 277–284.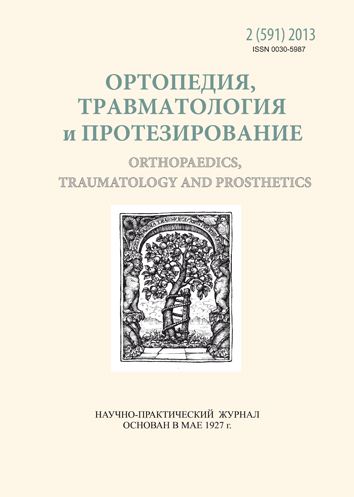 Downloads
Section
ORIGINAL ARTICLES
License
Copyright (c) 2014 Valeriy Hryhorovsky, Sergey Strafun, Sergey Bogdan
This work is licensed under a Creative Commons Attribution 4.0 International License.
The authors retain the right of authorship of their manuscript and pass the journal the right of the first publication of this article, which automatically become available after 6 months from the date of publication under the terms of Creative Commons Attribution License, which allows others to freely distribute the published manuscript with mandatory linking to authors of the original research and the first publication of this one in this journal.
Authors have the right to enter into a separate supplemental agreement on the additional non-exclusive distribution of manuscript in the form in which it was published by the journal (i.e. to put work in electronic storage of an institution or publish as a part of the book) while maintaining the reference to the first publication of the manuscript in this journal.
The editorial policy of the journal allows authors and encourages manuscript accommodation online (i.e. in storage of an institution or on the personal websites) as before submission of the manuscript to the editorial office, and during its editorial processing because it contributes to productive scientific discussion and positively affects the efficiency and dynamics of the published manuscript citation (see The Effect of Open Access).