Regeneration of full-length layers cartilage in experimental under the impaction platelet rich plasma
Keywords:
platelet rich plasma, growth factors, local cartilage defects, experiment
Abstract
It is known that even small damage to the cartilage, regard­less of genesis, is not spontaneously repaired. This provokes in the future the spread of degenerative joint damage and the oc­currence of irreversible secondary arthrosis changes.
Objective: to analyze the effect of autologous platelet rich plasma on the re­generation process in simulated cartilage defects in the intercon­dylar region of the femur in rabbits, to evaluate the microscopic pattern at different time intervals, to identify possible disadvan­tages and complications of the technique.
Methods: the experi­ment was conducted on 24 adult rabbits. Defects were created in the intercondylar area of the distal femur of both extremities: with involvement of the subchondral plate before the appearance of blood dew — 12 defects in the main group and 10 in the con­trol group, without its involvement — 12 and 10, respectively. On the 7th d ay a fter t he o peration, p latelet r ich p lasma w as injected into the joints of the control group rabbits. In 2 ani­mals (intact), the knee joints were not injured. After 2, 4 and 8 weeks, a macroscopic and histological analysis of the formed regenerate was carried out.
Results: 8 weeks after the operation, the average thickness of the regenerate in animals with damage to the subchondral plate was (0.34 ± 0.06) mm in the main group and (0.58 ± 0.009) mm in the control group. Without damage to the subchondral plate, the regeneration of the cartilaginous tissue is limited and after 8 weeks is practically not observed even when using platelet rich plasma. Regenerate in the main group was a fibrous-cartilaginous structure with signs of dif­ferentiation of chondroblasts, in control — fibrous, with a large number of vessels.
Conclusion: the structure of the regenerate in the defects of the articular cartilage with the involve­ment of the subchondral plate proved to be qualitatively better in the subgroup of animals that received platelet rich plasma in the postoperative period. 
References
Sekiya I, Muneta T, Horie M, Koga H. Arthroscopic transplantation of synovial stem cells improves clinical outcomes in knees with cartilage defects. Clin Orthop Relat Res. 2015;473(7):2316–26. doi: 10.1007/s11999-015-4324-8.
Spreafico A, Chellini F, Frediani B, et al Biochemical investigation of the effects of human platelet releasates on human articular. J Cell Biochem. 2009;108(5):1153–65. doi: 10.1002/jcb.22344.
Duan L, Ma B, Liang Y, Chen J, Zhu W, Li M, Wang D. Cytokine networking of chondrocyte dedifferentiation in vitro and its implications for cell-based cartilage therapy. Am J Transl Res. 2015;7 (2):194–208.
Serra CI, Soler C, Carrillo JM, Sopena JJ, Redondo JI, Cugat R. Effect of autologous platelet-rich plasma on the repair of full-thickness articular defects in rabbits. Knee Surg Sports Traumatol Arthrosc. 2013;21(8):1730–6. doi: 10.1007/s00167-012-2141-0.
Feng X, Tian S, Sun K, Zhang J, Zhang C, Liu S, Zhou M, Lü J. Effect of platelet lysate on chondrogenic differentiation of human umbilical cord derived mesenchymal stem cells in vitro. Zhongguo Xiu Fu Chong Jian Wai Ke Za Zhi. 2011;25(10):1250–5.
Krüger JP, Ketzmar AK, Endres M, Pruss A, Siclari A, Kaps C. Human platelet-rich plasma induces chondrogenic differentiation of subchondral progenitor cells in polyglycolic acid-hyaluronan scaffolds. J Biomed Mater Res. B Appl Biomater. 2014;102(4):681–92. doi: 10.1002/jbm.b.33047.
Krüger JP, Hondke S, Endres M, Pruss A, Siclari A, Kaps C. Human platelet-rich plasma stimulates migration and chondrogenic differentiation of human subchondral progenitor cells. J Orthop Res. 2012;30(6):845–52. doi: 10.1002/jor.22005.
Drengk A, Zapf A, Stürmer EK, Stürmer KM, Frosch KH. Influence of platelet-rich plasma on chondrogenic differentiation and proliferation of chondrocytes and mesenchymal stem. Cells Tissues Organs. 2009;189(5):317–26. doi: 10.1159/000151290.
Izadifar Z, Chen X, Kulyk W. Strategic design and fabrication of engineered scaffolds for articular cartilage repair. J Funct Biomater. 2012;3(4):799–838. doi: 10.3390/jfb3040799.
Xie X, Ulici V, Alexander PG, Jiang Y, Zhang C, Tuan RS. Platelet-rich plasma inhibits mechanically induced injury in chondrocytes. Arthroscopy. 2015;31(6):1142–50. doi: 10.1016/j.arthro.2015.01.007.
Saito M, Takahashi KA, Arai Y, Arai Y, Inoue A, Sakao K, Tonomura H, Honjo K, Nakagawa S, Inoue H, Tabata Y, Kubo T. Intraarticular administration of platelet-rich plasma with biodegradable gelatin hydrogel microspheres prevents osteoarthritis progression in the rabbit knee. Clin Exp Rheumatol. 2009;27(2):201–7.
Lee JC, Min HJ, Park HJ, Lee S, Seong SC, Lee MC. Synovial membrane-derived mesenchymal stem cells supported by platelet-rich plasma can repair osteochondral defects in a rabbit model. Arthroscopy. 2013;29(6):1034–46. doi: 10.1016/j.arthro.2013.02.026.
Milano G, Sanna Passino E, Deriu L, Careddu G, Manunta L, Manunta A, Saccomanno MF, Fabbriciani C.The effect of platelet rich plasma combined with microfractures on the treatment of chondral defects: an experimental study in a sheep model. Osteoarthritis Cartilage. 2010;18(7):971–80. doi: 10.1016/j.joca.2010.03.013.
Fortier LA, Barker JU, Strauss EJ, McCarrel TM, Cole BJ. The role of growth factors in cartilage repair. Clin Orthop Relat Res. 2011;469(10):2706–15. doi: 10.1007/s11999-011-1857-3.
Park SI, Lee HR, Kim S, Ahn MW, Do SH. Time-sequential modulation in expression of growth factors from platelet-rich plasma (PRP) on the chondrocyte. Mol. Cell Biochem. 2012;361(1-2):9–17. doi: 10.1007/s11010-011-1081-1.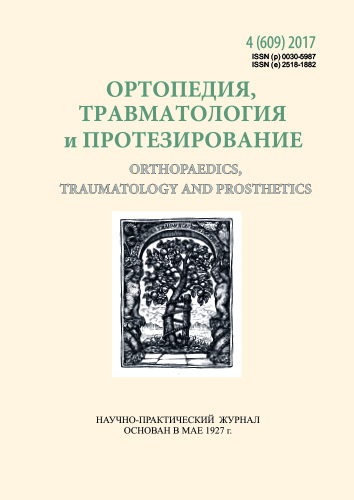 Downloads
Section
ORIGINAL ARTICLES
License
Copyright (c) 2018 Sergiy Vernygorodskyi, Volodymyr Fishchenko, Maksym Rybinskyi
This work is licensed under a Creative Commons Attribution 4.0 International License.
The authors retain the right of authorship of their manuscript and pass the journal the right of the first publication of this article, which automatically become available after 6 months from the date of publication under the terms of Creative Commons Attribution License, which allows others to freely distribute the published manuscript with mandatory linking to authors of the original research and the first publication of this one in this journal.
Authors have the right to enter into a separate supplemental agreement on the additional non-exclusive distribution of manuscript in the form in which it was published by the journal (i.e. to put work in electronic storage of an institution or publish as a part of the book) while maintaining the reference to the first publication of the manuscript in this journal.
The editorial policy of the journal allows authors and encourages manuscript accommodation online (i.e. in storage of an institution or on the personal websites) as before submission of the manuscript to the editorial office, and during its editorial processing because it contributes to productive scientific discussion and positively affects the efficiency and dynamics of the published manuscript citation (see The Effect of Open Access).